GOVERNMENTS

The GSA contract allows federal agencies to order specific work from JKA without the time consuming process of bidding each contract.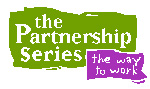 The Partnership Series is a community based stewardship training program run under the auspices of the Bureau of Land Management, National Training Center. JKA and the Partnership Series have collaborated for over 10 years.
Governments have mandates to protect the "public health, welfare and safety" of their citizens. This is often successfully done through promoting public participation in policy questions that create responsive governance. Yet this seemingly simple mandate has been difficult to fulfill. Government approaches to citizen involvement are addicted to a formal meeting format in trying to understand public interests. This seldom represents more than 2% of the people and the interests of the "98%ers" that never come to meetings are missed! Our process is designed to reach those 98%.
Over the years we have discovered that there is often a disconnect between the formal institutions of society, represented by various government units, and the informal networks of society within which everyday people try to predict, participate in and control their environment in a manner that makes their lives productive and fulfilling.
Our Social Ecology approach to governance and policy development uses the Discovery Process™ to understand through face-to-face contact with people what is happening in a community. We seek to comprehend the impact of changes taking place in the community and how the citizens are managing those changes. The Issue Management Process™ fosters alignment between the informal interests ("citizen issues") and formal interests ("management concerns") to create mutual learning and action. The result is that both the formal and informal systems are made more resilient, creating capacity to absorb and manage change.
The Social Ecology of Natural Resource Management
Community Forestry:
Community Forestry in the Illinois Valley, Oregon
The Bureau of Land Management:
U.S. Forest Service:
U.S. Fish and Wildlife:
U.S. Department of Defense:
Local Governments: