The Social Ecology of John Steinbeck and the Birth of The Discovery Process™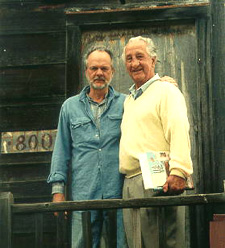 Natural Borders founder Jim Kent (left) and Dr. Ed Larsh (right) at the entrance to Doc Ricketts' Lab on Cannery Row.
John Steinbeck is known primarily for his insights into human nature. His books include Cannery Row, The Moon is Down, and Tortilla Flat. According to Natural Borders founder Jim Kent, Steinbeck formulated his approach to the human condition through a long informal interaction with a group of artists and writers who met at a gathering place called "Doc's Lab", in Monterey, California.
A charismatic marine biologist by the name of Ed "Doc" Ricketts convened an informal meeting place at the Pacific Biological Laboratory at 800 Ocean View Avenue in Monterey from 1927 to 1948.
Among the regulars were Steinbeck and such writers, artists and social reformers as Henry Miller, Francis Whitaker, Bruce Ariss, Jack London, Joseph Campbell, and Lincoln Stefens.
A second lab group composed of Ed Larsh, Eldon Dedini, Gus Arriola, Hank Ketcham, Dr. Joe Turner and Dr. Fred X. Fry owned Doc's Lab from 1948 to 1997, at which time they turned it over to the city of Monterey to be preserved as a historical gathering place.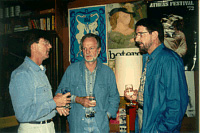 Book signing for Doc's Lab. (left to right) Tom Baker, Town Manager of Basalt, Colorado; Jim Kent, and John MacIntyre, County Manager of Washoe County, Nevada.
In 1995 Ed Larsh published Doc's Lab: Myths and Legends of Cannery Row to commemorate and publicize the unique interaction that took place among the writers and social thinkers in those early years.
Chapter 7 of his book is entitled "Mack and the Boys as Consultants", and is the story of Jim Kent's work among the people of Minturn, Colorado.
This seminal research resulted in the people of Minturn deriving benefit from the impending development of the the Beaver Creek ski area without giving up the core values of their Hispanic heritage. Larsh's account documents in vivid terms the development and application of The Discovery Process™ as a research tool.