Center for Social Ecology and Public Policy (CSEPP)
Mission Statement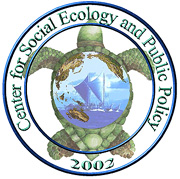 2011 Program
National Field School!
CSEPP and Colorado State University (CSU) announce the 2011 National Field School in Social Ecology and Public Policy.
This innovative program will take the practice of community fieldwork in understanding the social dimensions of a local area and apply that understanding to the creation of public policy.
The Four Propositions of Social Ecology
Center for Social Ecology
and Public Policy
P.O. Box 3493
Ashland, Oregon 97520
(541) 601-4797
Email
Sustainable Development

Public Policy Initiatives

Educational Programs

Public Service Projects
The Center for Social Ecology and Public Policy is dedicated to individual empowerment through the maturing of natural systems present in all human communities. These natural systems are a pathway for direct participation of citizens in the creation, ownership, and management of public policy. Natural systems are the informal networks that operate in communities and the formal bodies that are in alignment with these informal networks. They are place-based, geographically centered, and are responsible for caretaking, survival, and cultural beliefs, traditions, and practices. When public policy grows out of this understanding of social ecology, productive harmony, the central outcome promoted in the National Environmental Policy Act (NEPA), is enhanced. The integration of the bio-physical and social ecosystems results in efficient application and mobilization of human, monetary, social, and natural capital.
Goal
The Center is dedicated to fulfilling its mission through the theory and practice of social ecology and public policy in local, regional, national, and international settings.
Objectives
The Center for Social Ecology and Public Policy, as a 501 (c) (3) organization will:
Conduct innovative projects that advance the field of social ecology and public policy. Social ecology is the theory and practice of enhancing productive harmony within and between the human and natural environments.
Secure grants and research support from foundations and government sources to engage in research that broadens understanding of social ecology as a science, developing concepts and methods that enhance our understanding of social ecosystems
Provide certified training, internships and other learning programs and opportunities to increase the professionalism of the social ecology field in public policy formation for students, citizens, natural resource professionals, health and human service professionals, national and international corporations and governments.
Create and implement a graduate program in social ecology and public policy directed towards leadership development for current and future government and corporate leaders who currently or will influence the creation of public policy.
Assist communities in understanding current changes and trends, to adapt and provide leadership in an action context that prevents disruption, and to promote diversity and persistence in social, cultural, biological, physical and economic environments.
Use a variety of venues for dissemination of research and application results, in particular the adaptive, quick-change, resilient nature of successful 21st Century communities and organizations, through mainstream and professional publications, media outlets, and public speaking.
The Certification Program in Social Ecology and Public Policy
This program provides students with the opportunity to explore social ecological principles and the related theories and methodological approaches to creating or influencing public policy. Scaled certification levels allow for the student to determine the level of proficiency desired, from a 1.5-day level of Advisor Certification to a six-month mentored Project of Excellence.
The purpose of the Certification Program in Social Ecology and Public Policy is to prepare individuals with the knowledge and skills to implement a social ecological approach to research and policy formation related to:
Watershed Restoration
Natural Resource Management
Social Service Delivery
Urban Development
Small Town Settlement
A social ecological approach incorporates key aspects of both the social and biophysical environments in order to foster productive harmony.
One of the key purposes of the certification program is to facilitate compliance with the National Environmental Policy Act of 1969 (NEPA) Policy Section 101 and Environmental Justice Guidelines for the United States (US) as well as other national governments and international bodies that have adopted environmental regulations based on the US model. For example federal agencies must respond to the pressure that the US Congress has applied in its recent Planning legislation and new Fire Recovery approved for the Departments of Interior (BLM) and the USDA Forest Service. The new mandates call for community-based stewardship for ecosystem recovery as the primary vehicle for this multi-billion dollar effort. As there are very few resource managers trained to work in the social/culture side of NEPA, a critical shortage of qualified social ecologists exists. This historic weakness will be addressed through this certification program.