The Honorable Lyle Laverty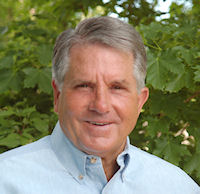 Former Assistant Secretary of the Interior for Fish Wildlife and Parks, Lyle was nominated as assistant Secretary of the Interior by President Bush and was confirmed by the United States Senate and sworn into office on October 30, 2007. In this capacity, he had policy responsibility for policies and programs associated with the development, conservation and utilization of fish, wildlife, and recreation, historical resources of the Nation. Lyle had direct administrative responsibility for the National Park Service and US Fish and Wildlife Service, agencies with combined annual appropriations exceeding $4 billion.
Before joining the Bush Administration, Lyle served as the Director of Colorado State Parks from 2001 to 2007. Prior to becoming Director of Colorado State Parks, he served as Associate Deputy Chief of the US Forest Service. In that capacity, he was responsible for the leadership and implementation of the National Fire Plan on more than 191,000,000 acres of National Forest System lands across the United States, managing a Congressional appropriation of $2 billion dollars.
In previous leadership assignments, Lyle served as Regional Forester of the Rocky Mountain Region of the US Forest Service, responsible for natural resource stewardship of more than 22 million acres of America's Forests and Grasslands in Colorado, Kansas, Nebraska, South Dakota, and Wyoming, a region with more than 2500 employees.
From 1992 to 1997 he served as a senior executive in the Forest Service's Washington, D.C. Headquarters Office as Director of Recreation, Heritage and Wilderness Resources. Lyle also served in a similar capacity from 1987 to 1992 as the Regional Director of Recreation Heritage, and Wilderness Resources in the Pacific Northwest Region in Portland, Oregon.
Lyle's first assignment with the Forest Service was in timber management on the Six Rivers National Forest in Orleans California. In 1972, he became timber management assistant on the Bear Springs Ranger District of the Mt. Hood National Forest in Oregon, followed with a subsequent assignment as District Ranger on the Skykomish Ranger District of the Mt. Baker- Snoqualmie National Forest in western Washington.
During a previous headquarters assignment, Lyle served in various assignments in the Policy Analysis, Recreation, and Strategic Planning staff units. He was Forest Supervisor of the Mendocino National Forest in Northern California from 1983 to 1987, managing a natural resource portfolio that included a 100, million board foot timber sale program.
A native of California, Lyle received a Bachelor of Science in Forest Management from Humboldt State University, and a Masters Degree in Public Administration from George Mason University in Northern Virginia. He is a graduate of Harvard University's John F. Kennedy School of Government Executive Leadership Program He is a Registered Professional Forester in California and maintains a Certified Forester registration with the Society of American Foresters.
Lyle and his wife Pam have an adult son and daughter with three grandchildren, all who live in Colorado.